ElectraStim Infinity Silicone Fusion Dual Pinwheel
Code:

ES030

Weight:
Soft, flexible electro pinwheel
Dual head
Premium silicone
Tickle the surface of the skin or penetrate deep
Great for couples
Smooth, premium, phthalate-free material
Easy to clean
Works with any ElectraStim power unit
Detailed description
Infinity is the first of its type: a pinwheel made of soft, flexible silicone!
The popular pinwheel has been redesigned in this silicone electrosex accessory.
The smooth and slightly flexible silicone lends a softer appearance to the toy while the feel-it-to-believe-it performance of the electro stimulation ensures the intense sensations you love.
Perfect for couples looking to try something different; Infinity is a fantastic 'gateway' to electro play that really helps to communicate the unique sensations to new audiences.
What Is Infinity?
Incorporate the kinky side of electro-play into the bed room with the Infinity Silicone Pinwheel. Inspired by the sharp metal Wartenberg wheels popular in fetish crowds, Infinity's sensual silicone softens the sensations for a more subtle type of stimulation. Rolled across the skin, Infinity can feel tingly/prickly and produce deep throbbing muscle contractions depending on the level you play at. Easily controllable and a great way to spice up foreplay; Infinity is perfect for beginners but is also effective for seasoned electro fans to experiment with surface play.
Made from phthalate-free silicone, Infinity can be completely dismantled for cleaning and is compatible with any ElectraStim Power Unit.
How To Use Infinity
To enhance the stimulation from Infinity we recommend applying ElectraStim Electro Conductive Gel, (sold separately) to the inner conductive hubs of the handle (1) before use. Once you have prepared both contact points, push the wheels gently into place (2). When the wheels are in the correct place you will hear a faint click as they pop into alignment (3) The wheels will then turn freely. Plug Infinity into your stimulator unit (4) and roll along the skin to experience the sensations (5).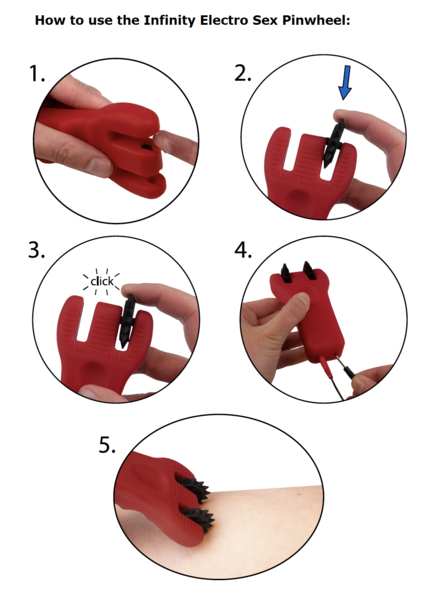 For the best sensations also apply a thin layer of gel to the skin where you want to play. Simply roll the wheel back and forth; as the spikes of the wheel become more coated with gel you will experience a variety of pleasurable changes in stimulation. Control the power and patterns with your stimulator unit (sold separately).
We always recommend placing the pinwheel against the skin before applying stimulation. Commencing play with stimulation already applied is not recommended.
Note: A high quality water-based lubricant is a sufficient alternative to conductive gel.
Safety - As with all electro sex products, Infinity is designed for use below the waist only.
2mm connection.