ElectraStim Komodo Silicone Fusion Electro Dildo
Code:

ES032

Weight:
Dildo with electro stimulation
Can be used in many different ways
Strap-on compatible
Suction cups on base
Cradle included
Hands-free play
Ridged design for extra stimulation
2mm connections
Phthalate-free
Works with all ElectraStim stimulation units
Detailed description
Komodo can be used as an amazing handheld dildo. It can be suctioned to a flat surface and ridden hands-free using the bespoke cradle. You can even wear Komodo as a strap-on!
Add to that the customisable sensations of electrostimulation and you have a toy that not only gives you a huge amount of choice in your play but that is also a great introduction to internal e-stim.
Komodo is the first silicone strap-on dildo in the ElectraStim range and has a wide variety of uses for both vaginal and anal electro play. Made from smooth and sleek medical grade silicone in a sexy shade of red, Komodo's striking ridged design highlights the conductive areas along the shaft for increased awareness of where the stimulation is targeted.
Versatility is the aim and Komodo can be used as a standard dildo, a strap-on, or as a riding/grinding toy; all of course with the unique sensations of electro!
Compatible with any strap on harness (sold separately) with a 1.5 inch diameter o-ring; Komodo also comes with a bespoke suction cup system that lets you use the dildo hands-free when attached to a smooth surface.
The shield-like flared base of Komodo also utilises a 'stealth' cable entry system to hide and protect the wires connecting it to your stimulator (sold separately) and provides stability during strap-on play or when using the suction cups. Thrust away to your heart's content!
Komodo is compatible with any ElectraStim stimulator unit, entirely phthalate-free and suitable for male or female users.
How To Use Komodo
Connect the dildo to your ElectraStim stimulator (sold separately) by inserting both 2mm pins into the stealth base of Komodo and the other end into the stimulator. A good coating of water based lubricant will enhance the sensations of Komodo and make them feel more pleasurable so we always recommend using your favourite brand of lube.
ALWAYS insert Komodo fully before turning the stimulation on.
Trying to insert with stimulation already applied can feel uncomfortable. Komodo can be used in multiple different ways.
Hand-held for manual thrusting during masturbation or play with a partner.
Worn in any strap-on harness (sold separately) with a standard 1.5 inch diameter O ring.
Used 'hands-free' by utilising the bespoke suction cup cradle. Komodo can then be attached to any solid, smooth surface for riding and grinding.
Komodo IS NOT suitable for use in the shower, bath or any other location where water is present while a stimulator is connected. You may use Komodo in the shower if no electro stimulator is attached.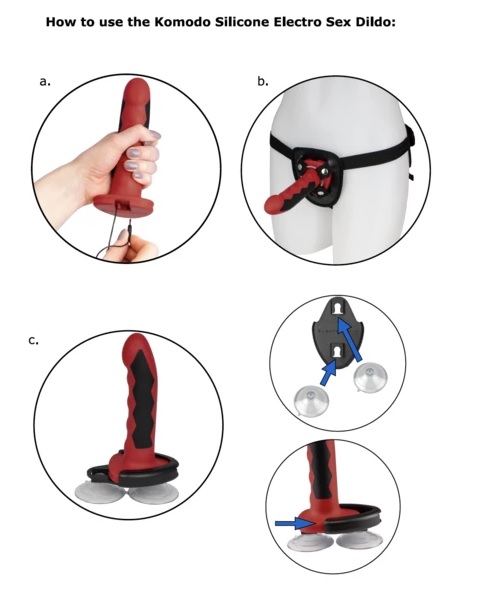 Dimensions:
Total Length: 162mm/6.4 inches
Length: 139mm/5.5 inches insertable
Diameter at the widest point: 36mm/1.4 inches
Circumference at the widest point: 113mm/4.45 inches
Connector Size: 2mm (adapters available for 4mm systems)
Material:
Medical grade platinum grade silicone
Included:
Komodo Silicone Electro-Sex Dildo
ABS plastic suction cup cradle
2 x clear suction cups
Storage bag