PlayHarda.UK Heavy Duty Sling Frame
Code:

PH059-45

Weight:
Stronger and sturdier than most other frames
Comfortable and reliable
As seen in Staxus Films!
Available in 2 options (4 and 5 point slings, or 4,5 and 6 point slings)
Available in a range of colours
Collapses down
Heavy duty metal, let the frame take the strain!
Minimises shaking and leaning as the frame is used
Compatible with all chain clip slings!
Please allow 10 days delivery if ordering a Rubber or Leather 5 Point Sling.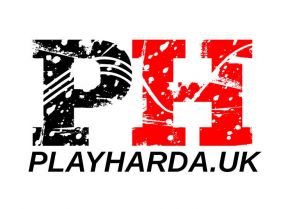 Place an order for £35.00 or more to get
FREE STANDARD UK DELIVERY! (Excludes sale items)
Detailed description
The PlayHarda.UK Heavy Duty Sling Frame is one serious piece of kit!
Why heavy duty? Unlike other similar frames that use very thin box section steel (similar to that used on baby gates), the PlayHarda.UK Sling Frame is made from 2mm thick box section.
It's so popular and reliable, it's even been used in Staxus Porn Films! (See product images)
PlayHarda.UK have researched the current Sling Frames on the Market and built a stronger, sturdier, more comfortable frame, designed for maximum pleasure!
The design means that shaking and leaning of the frame is reduced to a minimum, so during a session, you can rest assured that the frame will take the strain!
Made from thick and sturdy box section steel, which is then powder coated to give it a great looking finish, it can easily be taken apart to store away. (Or you can just leave it up in your dungeon, ready for use!)
Size (Approx)
Height Approximately 2mtrs
Depth Approximately 1.4mtrs
Width Approximately 1.1mtrs
The Standard model is compatible with 4 and 5 point slings.
The Extra model is compatible with 4, 5 and 6 point slings.
Why not add one of our fantastic slings? Simply choose your sling from the options.
Want to film your fun? As well as allowing to film from your manhood's point of view, The CockCam includes a magnetic stand to attach to your PlayHarda.UK sling frame!
Film your intimate moments from different angles and stream them across the world, save them to a mobile device or save to a micro SD card!
Please note: The Sling Frame does not include a sling, unless you add it in the options.
The frame doesn't include clips and chain. These will be included if you add it in the options..
Colours
There are a wide range of colours available.
Please contact us to request a colour that isn't listed below using our contact form.
Please note, colours may slightly differ to that shown on a PC screen.
Please allow up to 10 working days for colours other than black.